Pranburi
Pranburi, Thailand
Located only about 15 kilometers south of Hua Hin, Pranburi has many fine beaches and home to the new Racer Marina. If you like boating then Racer Marina is worth a visit, offering dry or wet boat storage, service and tour boats operating from the marina.
There are many nice properties for sale or rent in the Pranburi area that would be close to the beaches and the marina. Also Khao Tao sits between Hua Hin and Pranburi and has beautiful beachfront condominiums for rent and sale. Khao Tao has the beautiful Sai Noi beach with the beachfront Sanae Beach Club. There are many great Thai and European restaurants located in the area along with fresh seafood restaurants. Makro and Tesco are centrally located for grocery shopping and also Hua Hin city just minutes away.
Pranburi property is getting very popular as the area offers comfortable living that is not crowded.  Yet it still is very convenient to go to Hua Hin or the main highway to Bangkok. There are plenty of new scenic bike paths built to cycle.  Great for exercise or just have fun by the beach while you tour around. Pranburi is a very nice area to live with mountain views, fresh air and nice beaches. More people have discovered the quality peaceful living in the Pranburi area while still being close to Hua Hin city and all the shopping. Quality housing developments, beachfront condos and individual properties are available in this great location.
The New Racer Marina for Hua Hin and Pranburi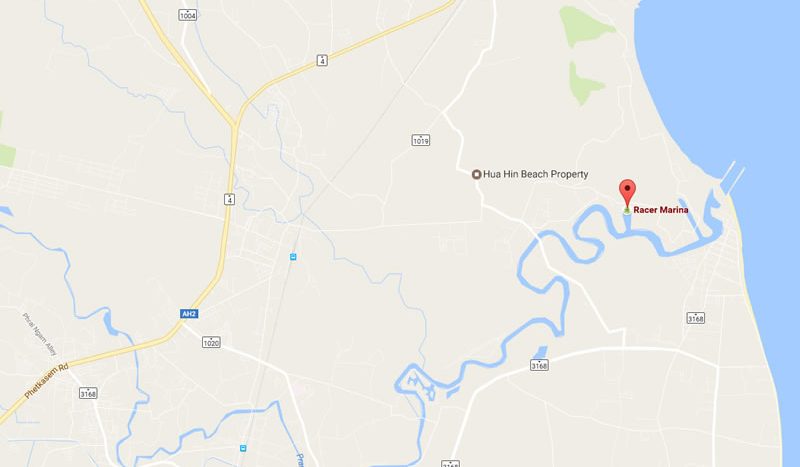 If you love boats and boating then you need to check out the new Racer Marina located just south of Hua Hin in Paknampran, Pranburi.
This new marina a great new addition to the Hua Hin / Pranburi area for boat enthusiasts no matter if the boat you own is on a trailer that you keep at your home and need it is also a great place to get fuel and supplies. Or if you have a large yacht that you need to keep in a secure berth were you can easily access the Gulf of Thailand.
The Racer Marina is easy to get to from Hua Hin through Sam Roi Yot. And for those people who are lucky enough to have a home around Khao Tao and Pranburi,  you will only be minutes away from boating.
This beautiful new marina features:
Berths for up to 100 boats in water
Dry storage covered and on stands for up to 140 boats
24 hour security
Travel Lift
Boat ramp for launch from trailers
Boat Service
Fuel Service
Boat Sales
Taxi Service
Drinks – Snacks – Food – WiFi – Fax service
Monthly dry berth on trailer fees are 150 baht per foot and wet berth slips start at 200 baht per foot. Electricity and water are available at additional low fees if needed.
More information can be found on the Pranburi Marina website with a map of their facilities and where they are located. If you have or are thinking of owning a boat, then stop by and visit, have a cold drink and snack and check out the marina.
Land and Homes for Sale
There are some very nice homes and pool villas available for sale near the marina along with several new developments starting in the area. If you would prefer to build your own home then there is still some land available. But you better hurry as much has already been purchased for future homes. This is an upcoming top area to live with larger land plots in a beautiful and convenient location to the marina, local beaches, restaurants, and also grocery stores.